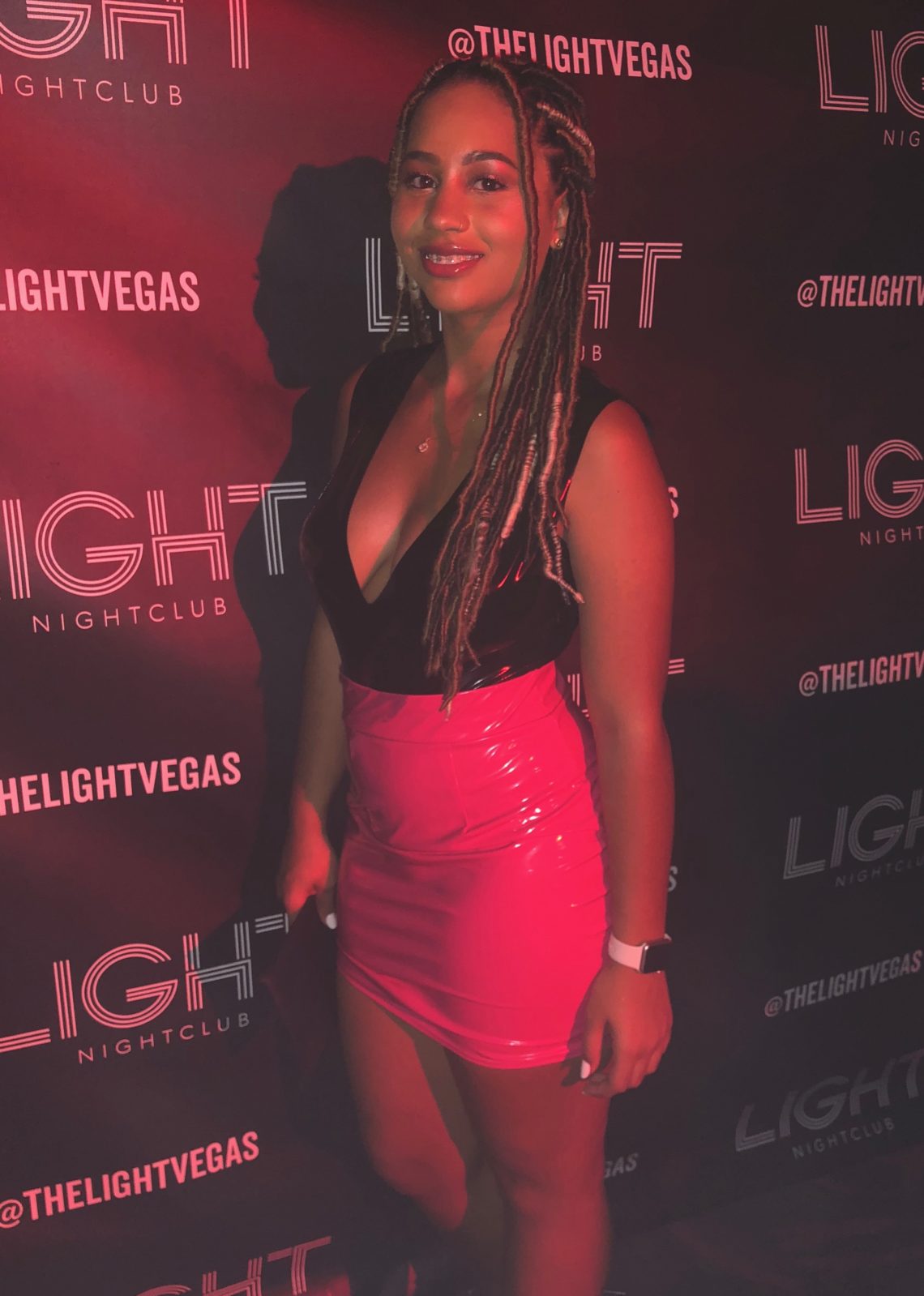 50 ACTIVITIES FOR THE LAS VEGAS NON GAMBLER
DO YOU CONSIDER YOURSELF A LAS VEGAS NON GAMBLER….WELL THIS ONE IS FOR YOU!
Vegas is the Land of Casinos. Or, so it seems. From poker to roulette to slot machines, there's a casino game for every gambler. But, not all of us likes to gamble. At least I don't. I'm not a huge fan of giving away my money to a billion dollar establishment with a minuscule chance of getting any of it back. Yes, I have tried to get into it. But after giving $20 to a slot machine, I consider that my limit. So you may be surprised to know that I travel to Las Vegas about 12-15 times a year. Now why would a person like ME (a Las Vegas non gambler) go to a place like Las Vegas so many times a year? Well, there are SO MANY OTHER ACTIVITIES TO DO BESIDES GAMBLING IN LAS VEGAS! It's true. So for those of us hesitant to betting it all, I decided to create this handy list of things and places I enjoy that have nothing to do with gambling. I am confident that you will find something on this list that will change your mind about what Las Vegas has to offer.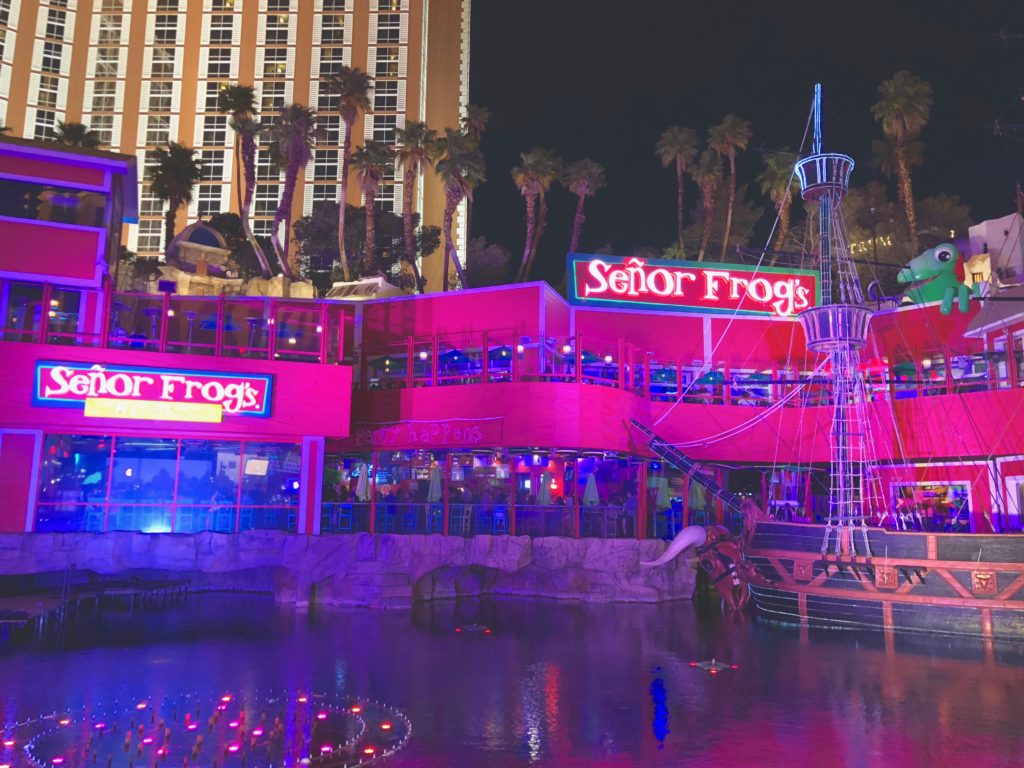 I have created the PERFECT LIST OF 50 ACTIVITIES FOR THE LAS VEGAS NON GAMBLER to make the most of your time in this unique desert oasis. Feel free to scroll ahead to choose from the categories you are looking for.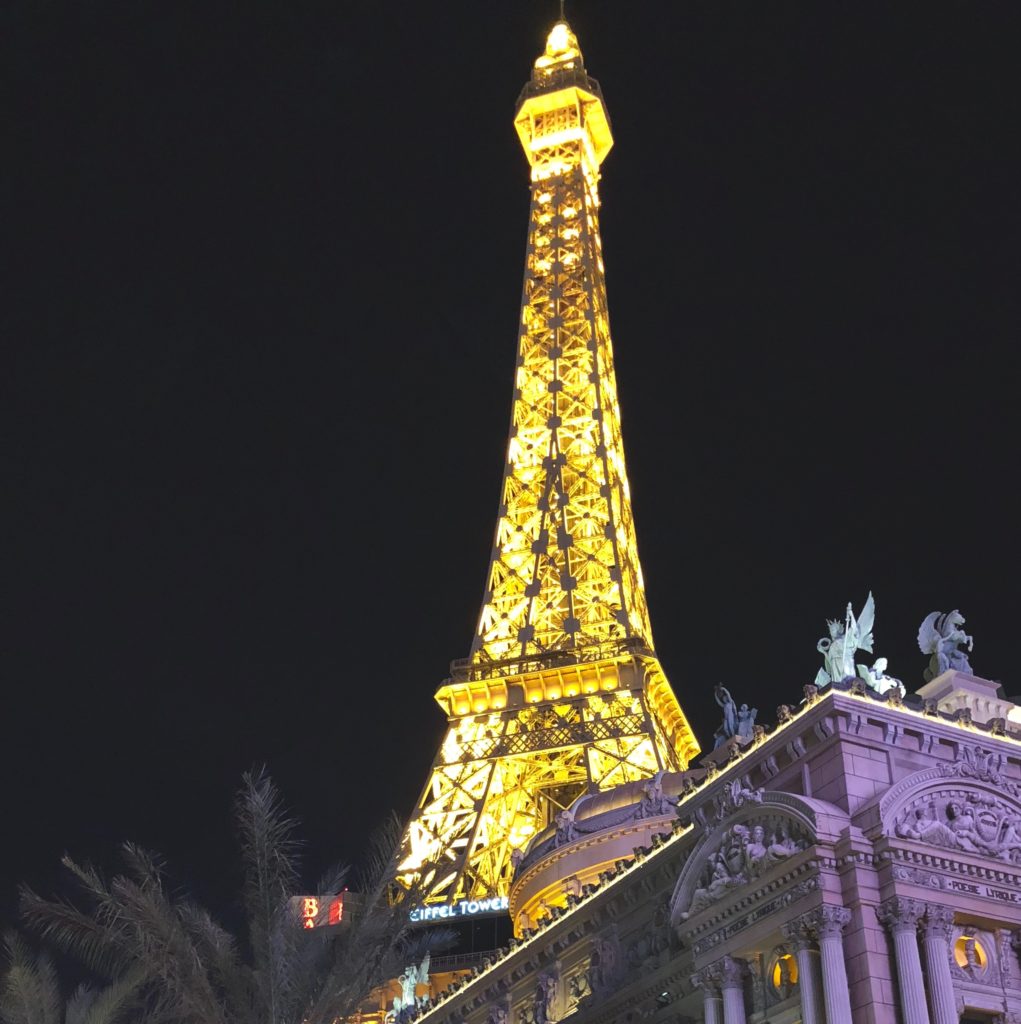 Attractions/ Sightseeing
Bellagio Conservatory and Botanical Gardens

: This is a beautiful sight to see. Every season, a special team of horticulturalists transforms this space to inspire all of your senses. Various themes incorporating beautiful flowers and plants include Japanese Spring, Chinese New Year, and Tour of Italy. (FREE)
The Big Apple Coaster & Arcade

: I like this roller coaster because there is more to it than meets the eye. Located at the New York New York Hotel & Casino, the Big Apple Coaster offers a virtual reality version, and you can even GET MARRIED ON THE ROLLER COASTER! Yes, you read that right. Adjacent to the roller coaster is a modern arcade.
Circus Circus Adventuredome

: The Adventuredome was my FAVORITE place to go as a kid coming to Vegas, and is perfect for families of all ages. Located in the Circus Circus Hotel, the Adventuredome is an indoor theme park featuring roller coasters, laser tag, carnival games, and much more. As a Las Vegas non gambler, and thrill enthusiast, I have found Vegas to be very accommodating.
Fountains At The Bellagio: The Bellagio offers a stunning water show, performing several times a day. Engineers have worked hard to construct an effortless water dance, which moves to the beat of the accompanying music. (FREE)
Gondola Ride at The Venetian: Calling all romantics, this one is for you! The Venetian has a huge canal with shops surrounding it. Did you know you could ride in an authentic-looking Italian gondola complete with an Old World gondolier serenading you? One of my favorite Vegas activities is the Gondola Ride at The Venetian simply because it transports me to an entirely different world.
The High Roller: This is a fairly new attraction. The High Roller is a GIANT Ferris wheel that can be seen for miles and happens to be the world's tallest observation wheel (even taller than the London Eye!) The views at the top are worth waiting in line for. Some unique features that The High Roller has is the ability to get married on location (seems to be a running theme,) a happy hour feature, and private pods available for birthdays and bachelor/ bachelorette parties. Clearly, this is a one-of-a-kind Ferris wheel experience you won't find anywhere else.
LINQ Promenade

: This area is a fun walkway reminiscent of a trendy, New York City neighborhood. Nestled between the LINQ Hotel & Casino and the Flamingo Hotel & Casino, this area offers a lot of new restaurants and shopping experiences, with the beautiful High Roller as the backdrop. This is a fun area to people watch, grab a bite to eat, and kill some time. (FREE)
M&M World: This attraction can be described as Chocolate Heaven! I admit, I do not have a huge sweet tooth, but I cannot deny the wonderful chocolate aroma that tempts all that walk by. Located on The Strip next to the MGM Grand Hotel & Casino, you can buy candy and merchandise, with 4 floors of huge displays. (FREE)
Secret Garden and Dolphin Habitat: Siegfried and Roy are the faces of this beautiful oasis located in The Mirage, the home of their infamous show from past decades. In this habitat, you will find White lions, White tigers, and Bottlenose dolphins (oh my!)
Shark Reef Mandalay Bay

: Anything is possible in Vegas, which means you can absolute view sharks up close and personal in the middle of the desert. One of the coolest features here is an area of the attraction with a 360-view, where you can see sharks and other creatures swimming all around you. If you happen to be a certified diver, you can even request to dive with the sharks!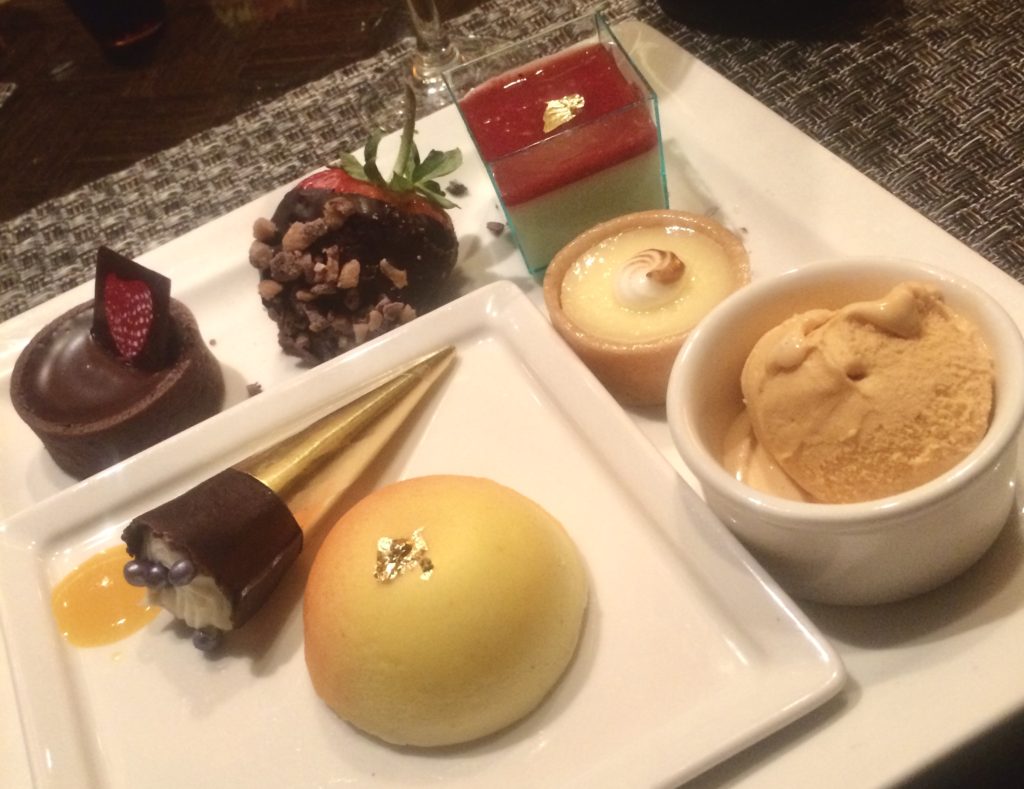 Dining
Buffet of Buffets: There are many wonderful buffet places to try, so why not (almost) try them all? With Buffet of Buffets, you pay one reasonable price, and you have access to 5 buffets during an entire 24-hour window. If you plan accordingly, you can really get the most bang for your buck.
Giada: This beautiful, upscale restaurant specializes in Italian with a nod to California style. As you eat, you will be surrounded by awesome views of The Las Vegas Strip.
Raku

: An insider favorite, Raku is a located outside the hustle and bustle of The Las Vegas Strip. Raku offers Japanese Charcoal Cuisine, with sashimi, salads, and tofu.
Secret Pizza: This is the food spot I eat at 80% of the times I have ever visited Las Vegas. Located in the Cosmopolitan, Secret Pizza is a hole in the wall retro pizza joint with no advertising or signs. People usually only discover it's existence through word of mouth or if there happens to be a giant line that extends out into the walkway.
SUSHISAMBA: No food list is complete without SUSHI! Located at the Palazzo Hotel & Casino, SUSHISAMBA is a unique sushi restaurant that blends Japanese, Peruvian, and Brazilian influences. A few years ago I came here alone on my birthday, and the bartender gave me a free drink and sushi roll! Maybe he felt sorry for me but I'll never forget that lovely gesture.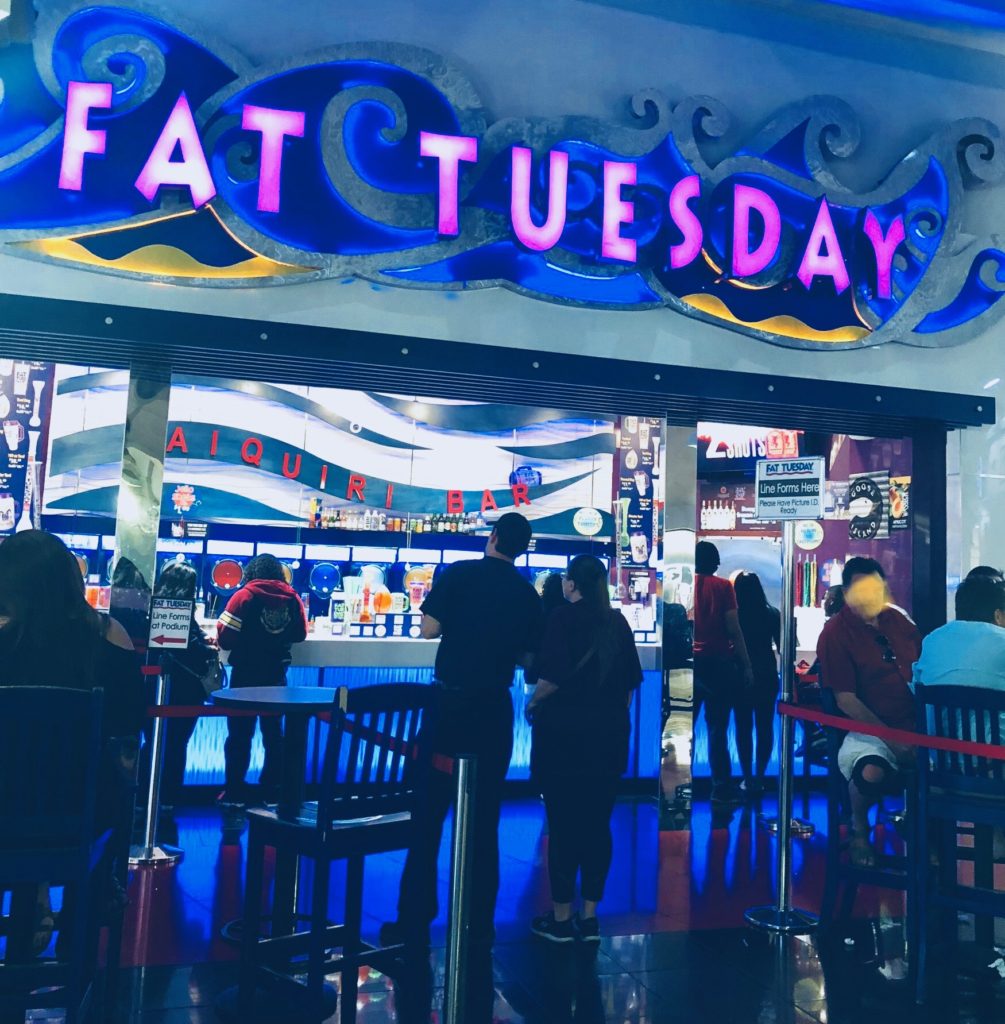 Excursions/Adventures
Drive An Exotic Car

: Do you have a NEED for SPEED? Ok….sorry, that was corny. Anyways, Las Vegas offers several places where you can race extremely expensive luxury cars from Audis and Mustangs, to Lamborghinis and Ferraris. This is a great surprise gift if you happen to be in town for someone's birthday, FYI.
Golf at Top Golf

: Just off the Las Vegas Strip behind the MGM Grand, you can golf to your heart's content. But because this is Vegas, Top Golf is over the top with 107 climate-controlled hitting bays, 5 bars, 2 pools, and much more.
Helicopter Ride to Grand Canyon

: If you are not afraid of heights, this is the excursion for you! There are many different companies to go with, but most will allow options to fly over The Grand Canyon, Hoover Dam, Lake Mead, and/or The Las Vegas Strip.
Hoover Dam: The Hoover Dam is a place I've visited a couple times as a child, and there is truly nothing like it. Located 30 miles away from Las Vegas, this man-made wonder was built during The Depression to control and harness the power of the mighty Colorado River.
Hot Air Balloon Ride: Speaking of heights, why not take it a step further and travel on a hot air balloon? It becomes a truly romantic adventure when you pack a picnic, before you you land in a place like the Red Rock Canyon for a dinner at sunset.
Las Vegas Motor Speedway: This is a huge speedway which hosts not only races you can watch and participate in, but giant events such as EDC and private events for corporations.
Red Rock Canyon: This picturesque desert beauty is only about 20 minutes west of Las Vegas by car. The canyon is a great place to recharge your batteries and see what Nevada has to offer in all it's natural glory. Hiking, rock climbing, and camping are the most common activities here, but always be mindful of the (often) high temperatures!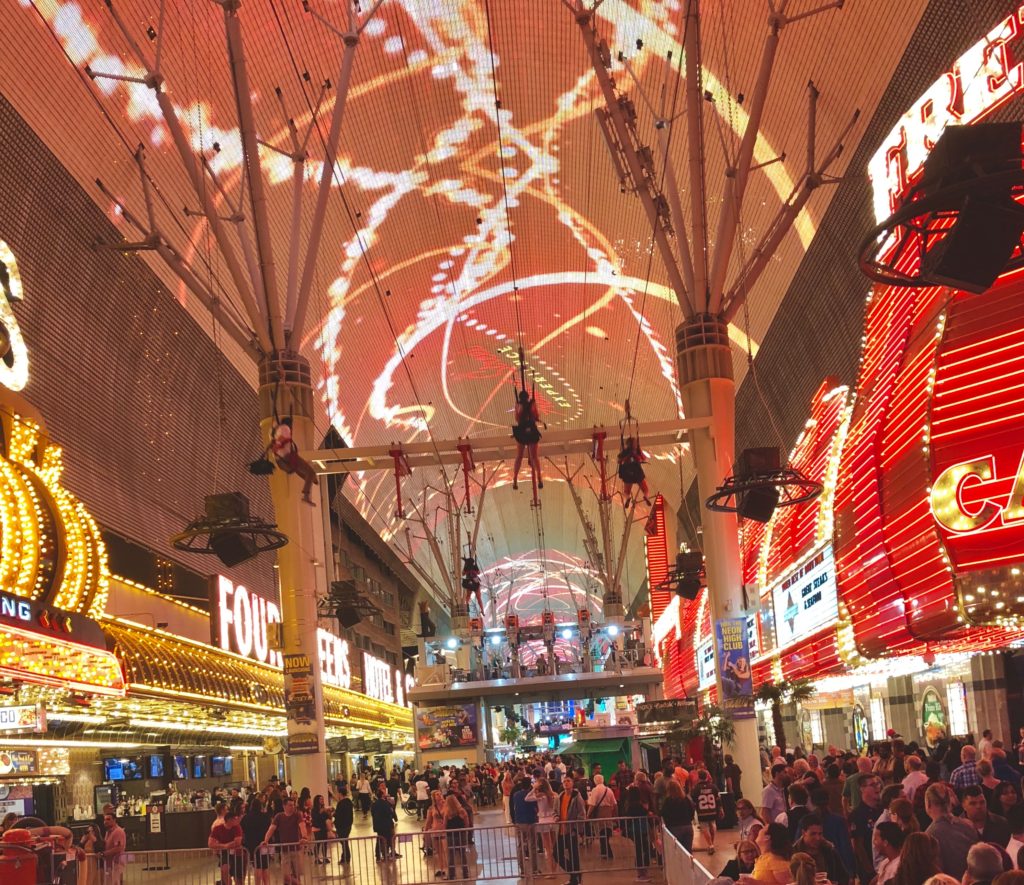 Museums
Bodies: The Exhibition: Museums in a crazy party town like Vegas may seem out of place, but they provide a much needed break from your (likely) wild trip. If you are only going to visit one museum, the Bodies Exhibition's unique subject matter will both inform and entertain you.
Liberace Museum

: For a taste of Vintage Vegas, head over to the Liberace Museum, which was recently awarded a 2018 Tripadvisor Certificate of Excellence Award. The museum shows off Liberace's personal items and is actually located at the former Las Vegas home of Michael Jackson.
Madame Tussauds

: No doubt you have heard of this museum, which creates lifelike wax figures of your favorite celebrities. Located in the Venetian Hotel & Casino, this exhibit has over 100 figures and you can take pictures with all of them!
The Mob Museum

: Now here's something you'll only see in Vegas. If you didn't know, the history of Vegas is steeped in tales of mob rule and organized crime. Located in Downtown Las Vegas, this museum also focuses on crime prevention, vintage Las Vegas, and state of the art crime labs.
The Neon Museum

: Vegas is known for it's bright lights, but where do those lights go to die? The Neon Museum collects retired signs from Las Vegas hotels, restaurants, and other landmarks, while preserving and helping to return them to their former glory.
Pinball Hall Of Fame

: If you are looking for a change of pace, check out the Pinball Hall Of Fame located near The Las Vegas Strip. The best part is that these pinball machines were all restored to their original conditions, so you are able to play almost all of them.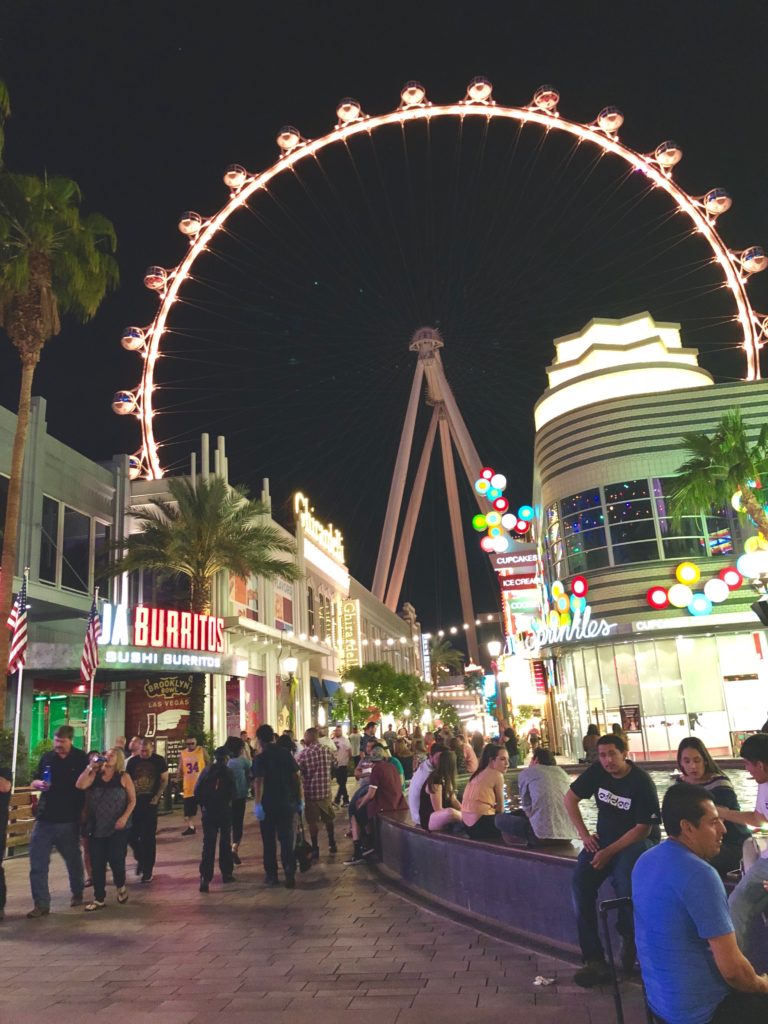 Shopping
Crystals

: As a Las Vegas non gambler, I like to find things to do during the day to occupy my time, like (window) shopping! There are tons of places to shop in Las Vegas, and one of the newest and biggest places happens to be Crystals, located on The Las Vegas Strip next to The Aria and Cosmopolitan hotels. It features great eateries and 50 high end designers such as Balenciaga, Dior, and Fendi. (FREE)
Fashion Show Mall: Located near the end of the main drag of The Las Vegas Strip near the Wynn and Treasure Island Hotels, you will find this mall which is reminiscent of a typical mall you'd find in an American city. There are stores to fit most budgets and a runway in the middle of the mall to accommodate it's weekly fashion shows and live entertainment. (FREE)
Forum Shops: This large shopping area is also located on The Las Vegas Strip inside Caesar's Palace Hotel and Casino. There is a mixture of shops and restaurants for all taste levels in an environment which mimics Ancient Rome to mirror the theme of the hotel. (FREE)
Grand Canal Shoppes: For a truly unique shopping experience, head to the Grand Canal Shoppes located in the Venetian Hotel and Casino. Home of the beautiful canal and gondola rides, you will feel like you are shopping in a picturesque Italian city. There are many restaurants of all types of cuisines and plenty of places to shop and people watch. (FREE)
Las Vegas Premium Outlets: Looking for a great deal? Head over to the Las Vegas Premium Outlets with two convenient locations, NORTH and SOUTH. There are many brands to choose from, such as Adidas, Finish Line, The North Face, and St. John. (FREE)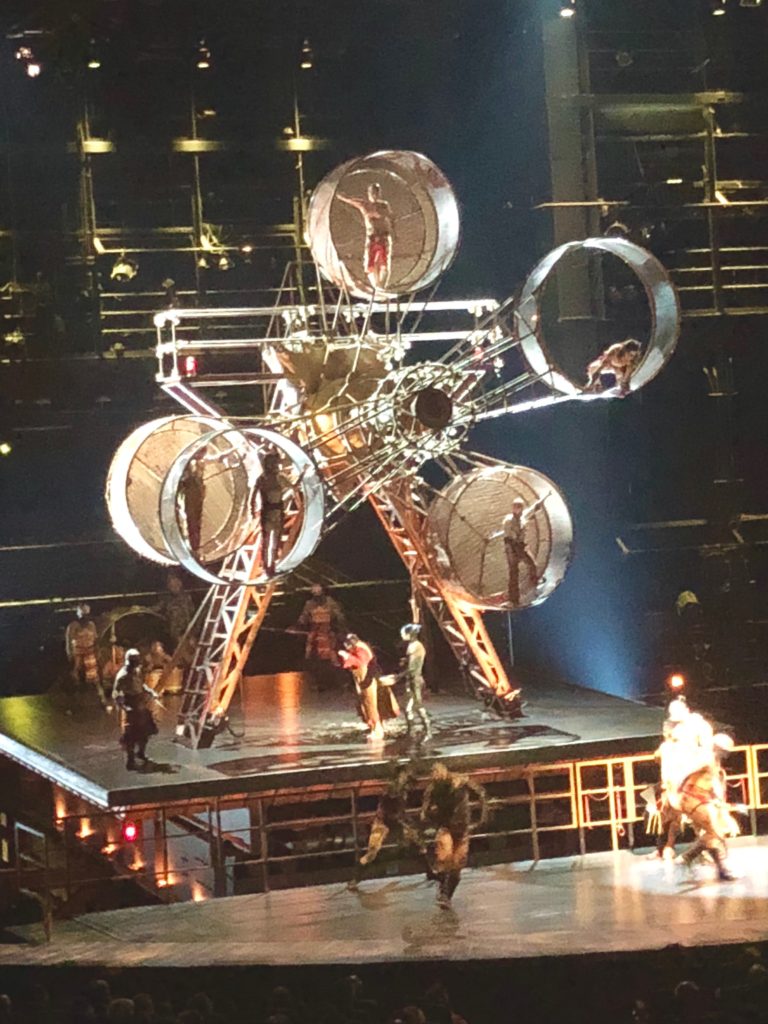 Shows
Blue Man Group

: I don't think I have ever been to a show like this, and it is worth checking out. This show is loud, colorful, and very quirky. There is no dialogue (at least when I went) so there is no language barrier to deal with if English if not your first language.
Brooklyn Bowl: Located in the New York-themed LINQ Promenade, The Brooklyn Bowl is a hip new venue open everyday at 5pm at the time of this posting. This location features bowling, food, drinks, and intimate concerts of all genres, so there is something for everyone here.
Fremont Street Experience: If asked, a lot of people will tell you that this is the "real" Las Vegas. Located in Downtown Las Vegas, which is a couple miles away from the Las Vegas Strip, this area features throwback hotels, affordable eats/drinks, and very interesting "characters." I might be a Las Vegas non gambler, but I do know that downtown Las Vegas is a good area to gamble if you want to save money because games are not nearly expensive here as they are on the Las Vegas Strip. There are free concerts, free light shows, and a ziplining experience I would highly recommend. (FREE)
KA by Cirque du Soleil: This is the most recent show that I have seen in Las Vegas, and it did not disappoint. Located in the huge MGM Grand Hotel and Casino, this show features acrobats and mind blowing effects that will keep you on the edge on your seat.
Michael Jackson ONE by Cirque du Soleil: So far, this is the BEST Vegas show I have ever watched! Not only because I love Michael Jackson, but the show was very well done. The dancers were amazing and the performance overall was very powerful. It really makes me regret never being able to watch Michael Jackson perform in person, but I'm glad a show like this exists to keep his memory alive.
Penn & Teller

: Located in the Mirage Hotel and Casino, this highly rated show has been in Vegas for about 15 years. Penn & Teller expertly blend comedy and magic in a unique show that is sure to be around for years to come.
Sirens of TI: Replacing the former Battle of Buccaneer Bay (Pirate Show), Sirens of TI is a free show held nightly in front of the Treasure Island Hotel and Casino and Señor Frogs. The 20 minute show features pyrotechnics and elaborate battle scenes. (FREE)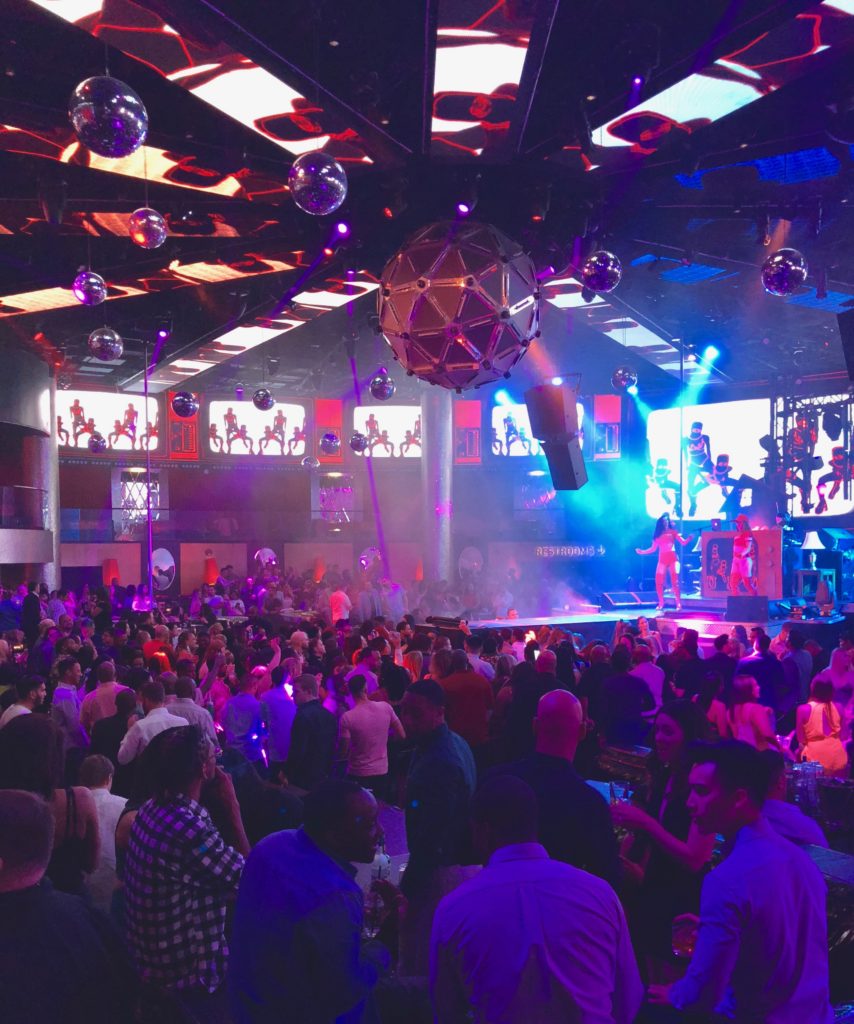 Social
Bare Pool Mirage: Located in the Mirage Hotel and Casino, this is an intimate pool party experience for adults only. Pictures and video are not allowed because it is technically a topless pool. I have been here around 10 times, and in my experience, only a handful of women actually choose to go topless here. Pricing is complimentary before a certain time for Mirage Hotel guests, and for non-guests the price usually ranges between $10-20.
Drais: Located at the Cromwell Hotel and Casino on The Las Vegas Strip, Drai's features both a day club pool party and a nightclub. I like places that include indoor and outdoor areas so that there are multiple places to walk around and mingle. Many popular artists headline here, such as The Migos, Ty Dolla $ign, Miguel, and DJ Esco. I never have a problem getting in because the line thankfully moves fast here, but it is always advised to buy your tickets in advance.
Flamingo Pool Party: I like this pool party because it is not as elitist as many Vegas pool parties can be. Instead of being absolutely dominated by private beds, cabanas, and expensive bottle service, the main focus is the DJ and huge pool area, which gives it a more relaxed vibe. As of the time of this posting, tickets are $15 for non-guests of the Flamingo Hotel and Casino.
Hakkasan

: This is a huge club located in the MGM Grand Hotel and Casino. If you are into EDM-leaning artists such as Lil Jon, Tiesto, and Steve Aoki, you will feel right at home here. As a Las Vegas non gambler, I put most of my energy into socializing at night at a place like this, rather than trying my luck at a slot machine. You'll want to get on a guest list and/or buy your tickets in advance to guarantee entry, and pricing depends on the day and the guest DJ.
Omnia: This is another giant club located in Caesar's Palace Hotel and Casino. With locations worldwide, this is the type of club to go to if you want to experience the extravagant Vegas club scene with sets by people like Calvin Harris, Zedd, and Nervo. Just like at Hakkasan, you'll want to get on a guest list and/or buy your tickets in advance to guarantee entry, and pricing depends on the day and the guest DJ.
Scene Pool Deck: I'm a Las Vegas non gambler, so during the day I can waste several hours dipping in the pool and sipping a cocktail in a place like this. If you want a pool party without the entry fee, I suggest the The Scene Pool Deck at the Planet Hollywood Hotel and Casino. Featuring The Flowrider, Vegas' first and only surf wave box, you'll also experience a DJ and an overall relaxed vibe catered to a younger crowd. I come here almost every time I visit Las Vegas. (FREE)
Fat Tuesday: One of my absolute favorite things to do here also happens to be the simplest. I like to buy a giant tall drink from Fat Tuesday and walk down the strip until my drink is empty. There are several locations, but I always go to the one in Planet Hollywood's Miracle Mile shopping area. With a cold drink in tow while you walk under the blazing Vegas sun, it gives you an opportunity to see what The Strip has to offer.
Beer Pong: I love playing beer pong and I think it's awesome that you can easily play right on the Las Vegas Strip. I might be a Las Vegas non gambler, but that doesn't mean I don't enjoy a good game here and there. There are a couple locations, but the two I frequent the most are O'Sheas Pub along the LINQ Promenade and Rockhouse Bar located in Planet Hollywood's Miracle Mile. O'Sheas typically has more tables available to play, but it's kind of dark in there to me. Personally, I enjoy playing beer pong at the Rockhouse Bar a little more. The atmosphere is a little more enjoyable, but there are usually less tables available to play on average.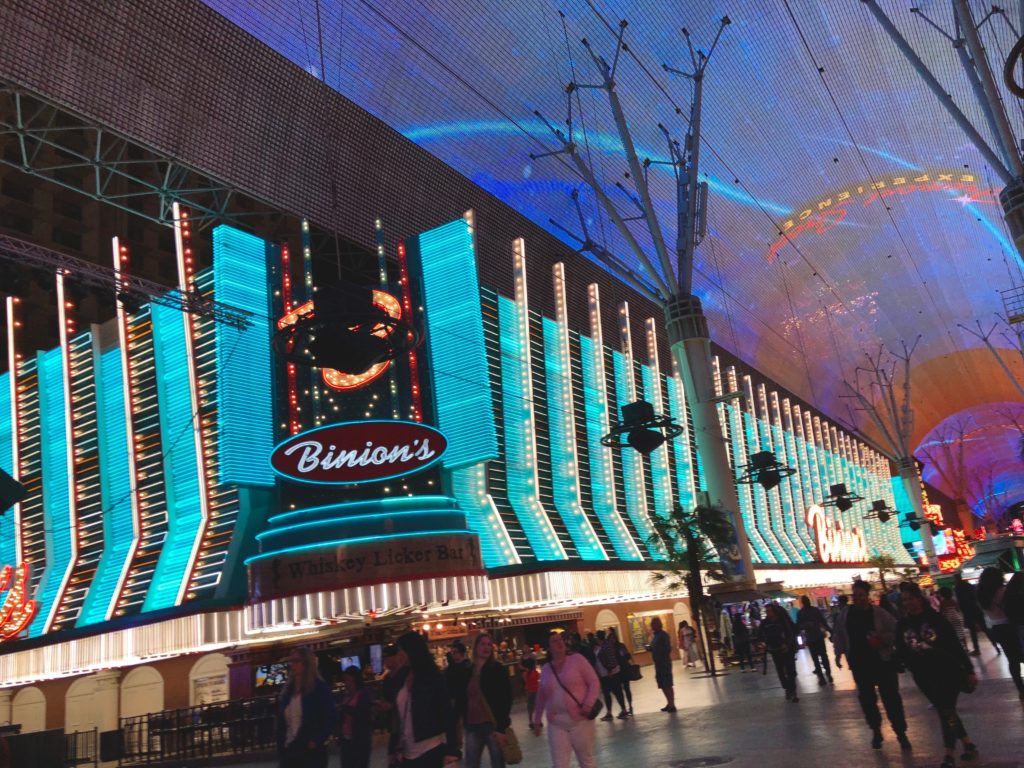 I know that may have seemed like a long list, but I had SO MUCH MORE to add! I didn't want to overwhelm you, though, especially if it's your first time visiting Las Vegas. If you follow my suggestions, I know you'll have a near-perfect Las Vegas Non Gambler Trip!
Now I'd like to hear from you! Are you a Las Vegas Non Gambler? Do you have anything to add to this list? Have you ever been to Las Vegas before? Did you have any specific questions for me about Las Vegas? Please let me know in the comment section below! 🙂
****PIN IT FOR LATER****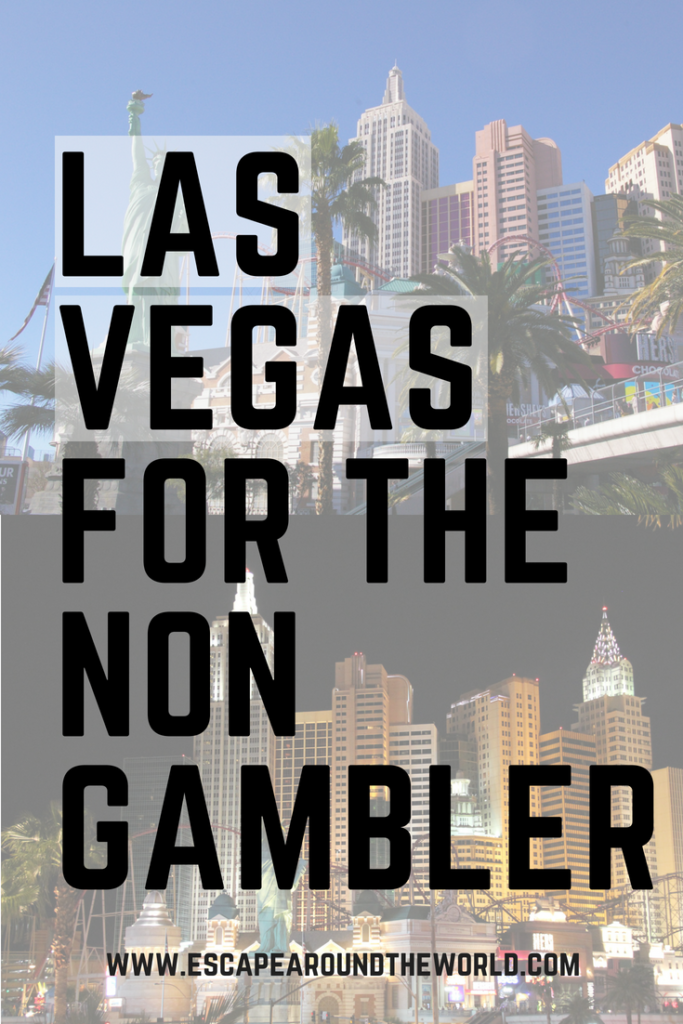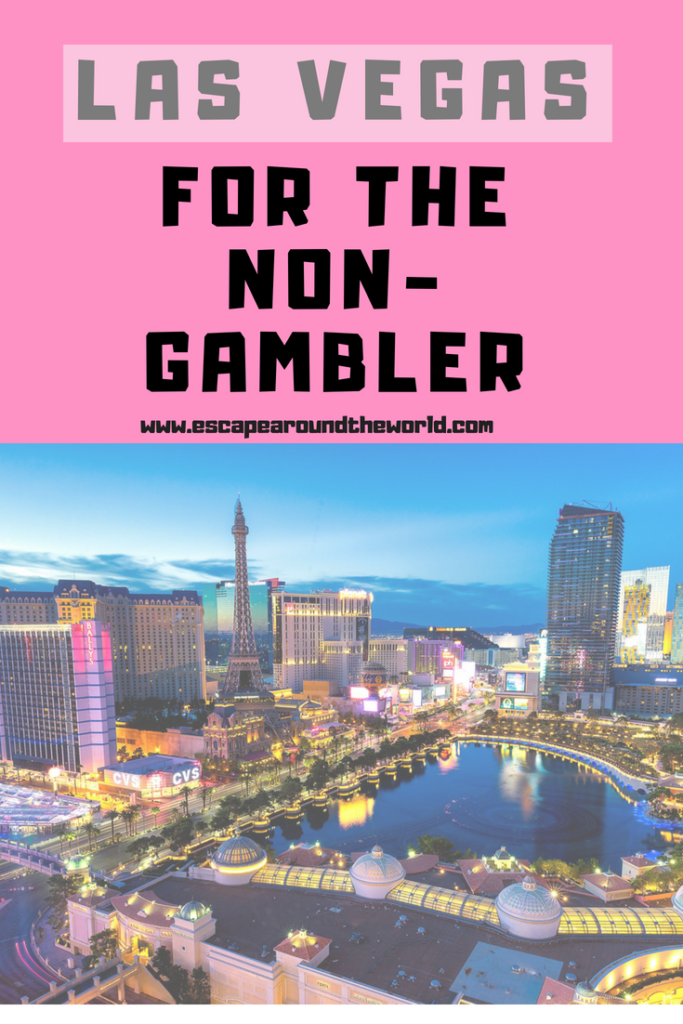 Check Out My Other Travel Articles Below!
Disneyland Revealed: Everything You Ever Wanted To Know About Cars Land
The Ultimate 14 Day Thailand Itinerary